The 12-gauge combat shotgun is the most devastating hand-held weapon per trigger press in our arsenal, but that power comes at the cost of recoil. To master the shotgun, you must first master that recoil.
At Symtac Consulting LLC, we have built our reputation on an innovative method of doing just that.
SYMTAC is a training organization that has provided innovative and proven firearms training to military, law enforcement, and civilian students for more than 20 years.
Our instructors bring decades of law enforcement special operations and competitive experience to the firing line, and are recognized nationwide as subject matter experts in their fields.
Rob Haught's "Push-Pull" recoil mitigation technique takes the pain out of training with your shotgun.
Reducing felt recoil means you can train more with your shotgun, allowing you to improve all your skills without the cost of bruising or pain.
Mitigating recoil allows you to effectively make rapid follow-up shots and transitions, delivering multiple fight-stopping hits quickly.
While the Push-Pull technique was developed for use with shotguns, it works equally well with any long gun, from hard-recoiling safari rifles to
intermediate-power carbines.  Reduced recoil means getting your sights back on target faster, no matter what longarm is in your hands!
We specialize in use of the combative shotgun, and also offer an array of courses including defensive handgun, carbine, low-light training, and more.
Our most requested class. This course focuses on the Push-Pull method of recoil control, using Rob's unique method of recoil management, as well as fundamental weapon manipulation techniques.
This program features a stronger emphasis on performance under pressure.  Includes use of cover, accuracy standards, timed shooting drills, and using the shotgun to its full capacity.  
LE Shotgun is designed to take the key points of Shotgun Skills and Advanced Shotgun and apply them to the LE role.  Strict accuracy accountability and safe movement are stressed throughout the course.
Lemon Grove Rod & Gun Club, Alpine, CA
Mead Hall Range, McLoud, OK
Big Springs Shooting Complex, Searsboro, IA
No event found!
Each of our instructors has extensive training and real-world experience offering practical methods and approaches to instruction based on proven fundamentals and drills.
Rob has a wide variety of shooting and teaching experience.  As an active full-time Law Enforcement Officer with over 30 years of experience, he brings a lifetime of shooting and training to the table.
Matt Haught
Vice President
Matt has a long history of competitive and practical shooting as a frequent pistol, shotgun, 2-gun and safari rifle match competitor.  He brings an armed citizen's perspective to Symtac's curriculum.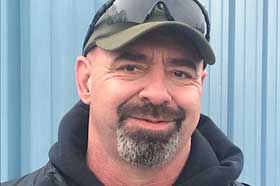 Bob Mefford
Senior Instructor
With over 24 years of Law Enforcement experience, Bob retired as a First Sergeant in September of 2018 and has spent over 22 years as member of the West Virginia State Police Special Operations section.
Tom Breen
Senior Instructor
Tom has been a competitive shooter and shooting instructor for over a decade, learning the trade from top instructors like Rob Haught and Ken Hackathorn.  Tom is also an avid dangerous game hunter, with multiple African safaris under his belt and the experience of standing and delivering under pressure.