President/Lead Instructor
Rob Haught is the founder and lead instructor for Symtac Consulting LLC.  An active, full-time Law Enforcement Officer with over 30 years of experience, he brings a lifetime of shooting and training to the table.  Rob has taught numerous Federal, State and Local Law Enforcement agencies, US military units, and private citizens in his career.  While best known for his innovative shotgun work, he also teaches the use of submachine guns, rifles and pistols.  He holds firearm instructor certifications from FLETC, FBI, NRA and the State of West Virginia, as well as numerous other Law Enforcement-related instructor certifications.
Rob has an impressive background as a competitive shooter, having been a member of the S&W and Beretta IDPA teams.  He has won the IDPA National championship as well as many state, regional and local competitions over a multi-decade career.
Matt Haught
Vice President/Senior Instructor
Matt has a long history of competitive and practical shooting as a frequent pistol, shotgun, 2-gun and safari rifle match competitor. He has trained under top instructors such as Ken Hackathorn, Craig Douglas, Cecil Burch, Ernest Langdon and many others. He brings an armed citizen's perspective to Symtac's curriculum.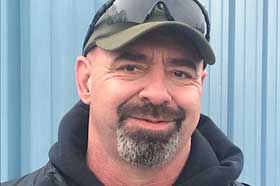 Bob Mefford
Senior Instructor
Bob is a retired West Virginia State Trooper with over 24 years of law enforcement experience. He retired as a First Sergeant in September of 2018 and had spent over 22 years as member of the West Virginia State Police Special Operations section.
Tom Breen
Senior Instructor
Tom has been a competitive shooter and shooting instructor for over a decade, learning the trade from top instructors like Rob Haught and Ken Hackathorn.  Tom is also an avid dangerous game hunter, with multiple African safaris under his belt and the experience of standing and delivering under pressure.
We've made a few friends working with law enforcement, military, security specialists, and civilians across the country.
I've known Rob Haught for many years as a friend, fellow hunter, competitive shooter and firearms instructor. We've shared ranges, African campfires and adult beverages together. Rob has been part of the Wilson Combat family for a long time specializing in our Scattergun Technology line. This past year we introduced the Rob Haught Special 870 package to our lineup. He is a respected name in the firearms industry and one of the best tactical shotgun instructors out there. I highly recommend that you seek out his training.
Rob Haught has been a friend and shooting buddy for nearly 40 years. Rob has been an assistant instructor for me over the years and proven himself to be not only a knowledgeable and competent instructor, but one of the better 'Gun Guys' in the circles I travel. Rob has always been an extremely good shot with pistol, carbine, SMG, sniper rifle and shotgun. His skill and techniques with the scattergun is where he really excells.... anyone remotely serious about learning to use the defensive shotgun should avail themselves of Rob's training.